Write The Ending You Want
Each person's retirement situation is unique with his or her own story to tell. Yours should be a story in which — to the best of your ability — you write the ending the way you want it to be through careful planning.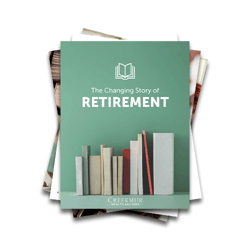 Download our comprehensive guide to learn about the realities of planning for retirement income today. Three pillars we include in the guide are:
Personal assets, such as 401(k) and 403(b) plans, and how these may constitute a larger portion of our retirement income in the future.
Government entitlement programs, such as Social Security and Medicare, and how a longer lifespan could effect them.
Employer pensions, and what underfunded plans could mean for affect retirees.
Learn how many of the economic and financial factors that influence our lives have followed the same path of our parents and grandparents. Plus, find out what types of questions you need to ask yourself so that you can live your best life in retirement—and plan your income appropriately.
Learn how to write the first chapter of your retirement story by downloading our guide today.
Neither the firm nor its agents or representatives may give tax advice. Individuals should consult with a qualified professional for guidance before making any purchasing decisions. 00154104