Discover How Tax Buckets Create Flexibility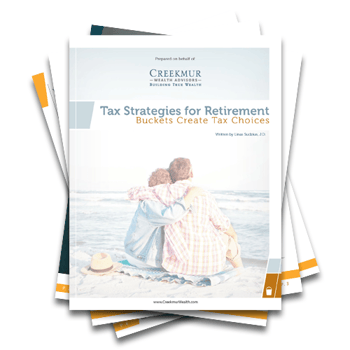 The recent 2016 Tax Reform legislation, ever spiraling national debt, and concerns around the funding of future national expenses has brought tax planning to the forefront of many individual's minds. Navigating the ins and outs of the tax code can be frustratingly difficult.

This FREE GUIDE is a crash course on the importance of tax planning. We will give you a glimpse into the structure we have used for 20-plus years to help our clients pursue the retirement they desire by building a time-tested, tax-efficient asset structure.
In this document we will discuss:
The importance of tax efficiency.
The challenges of tax deferrals.
Whether your Social Security benefits may be taxable.
How to divide your assets into four buckets to minimize taxes.
Download our free guide now to begin understanding what tax strategies for retirement may be appropriate for your financial situation.
Neither the firm nor its agents or representatives may give tax advice. Individuals should consult with a qualified professional for guidance before making any purchasing decisions. 022021-18