Let Creekmur Wealth Advisors Guide You
Life insurance tends to be sold, not bought—in other words, buying life insurance usually puts the seller in control.
What if you were in control of your life insurance policy?
Educate yourself by understanding the terms, limitations, and risks associated with buying life insurance, as well as a policy's cash value and premiums.
That's why we put together this complimentary e-book for you!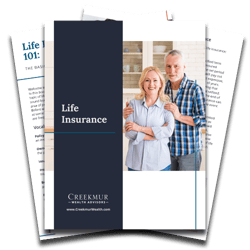 By reading this e-book, you'll have a better understanding of:
What life insurance is and what types of life insurance are available
The difference between whole and term life insurance
The difference between variable universal life insurance and indexed universal life insurance
How we view life insurance plans and what we typically recommend for our clients
Fill out the form to receive your complimentary e-book so you can determine what life insurance policy may be best suited for you.
This booklet is provided for informational purposes only and is not intended to serve as the basis for financial decisions.