Don't Overlook These Mistakes
We've identified five common mistakes people often make before they hit retirement and included them in this guide.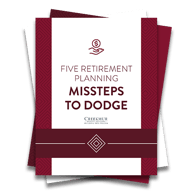 You'll also learn information about:
When to start thinking about retirement.

The importance of contributing to savings and budgeting.

Why you should consider costs you may not need until later in life.
Learn more about common retirement missteps in these areas and what you can do to make sure they don't go overlooked.
Download our guide to learn how you can prepare for a more confident retirement.
Neither the firm nor its agents or representatives may give tax advice. Individuals should consult with a qualified professional for guidance before making any purchasing decisions. 112023-05